PROJECTS – a sample list

Public Green Space

Fylde

Restoration plan for the Grade II listed Promenade Gardens at St Annes. This extensive site includes Pulham and Son rock scenery comprising of Grotto, waterfall, ornamental lake, rock outcrops and islands. It is unique in the fact that the site mixes picturesque, gardenesque and idealised naturalistic styles. In addition it is unusual and unique in using both natural and fabricated limestone – the former an atypical mix of both quarried and water-worn stratified rock. Other features include traditional flower beds, an alpine garden, native grasslands with associated flora, recreational zones and structural shrub planting.

Greater Manchester

Design and contract administration of a new public park - Pepy's Place, Worsley Mesnes, built on reclaimed land. Features include: play areas, wet-pour rubber safety surfacing, a multi-use games area, land drainage, crushed stone and tar macadam footpaths, disabled access stiles, land modelling, tree planting and a spring flower meadow.

Annual flower bed design for the large Italianate Gardens of Mesnes Park, Wigan; a grade II listed historic park. The three year rotation focuses on traditional Victorian, dramatic and subtle themes. Funded by the Heritage Lottery Fund.


Redesign and project management of Leyland Park, Hindley. Features include: Formal lawns, sports fields, tree planting, shrub borders, ornamental flower beds, ornate railings, a multi-use games area, teen shelters, illuminated routes, floodlighting, tar macadam path network and land drainage.

Redesign and contract administration of Firs Park, Leigh; recreation area and formal garden. Features include: (recreation) landscape improvements, land drainage, illuminated routes, a small grass amphitheatre, tree planting; (formal) ornate railings and panels, rose beds, scented shrub beds, feature bed with memorial tree.


Formal car park for a public open space at Alexandra Park, Wigan: with inclusive access, height barriers, stiles, sustainable urban drainage system, link footpaths, refurbished approach road, tree management, screen planting, associated landscaping and recycling facility.

Pricing, quantity surveying and contract monitoring of seven major land reclamation schemes for public open space in Atherton, Tyldesley, Leigh and Hindley. Features include: land drainage, land modelling, buffer zones, amphibian ponds, woodlands, play areas, meadows, grassland for recreation, culverts, bridges, boardwalks, brick walls, roads and both macadam and crushed stone footpath networks.

Lancashire


Site survey, inventory and analysis for a historic green space at Shevington Park. The site is the former parkland of Shevington Hall. Arrangements and advice was given for the protection of an important tree collection and suitable treatment of a long standing drainage and flooding issue.

Stage 1 assessment and appraisal of the historic Ravine and Grottos at the former estate of Lord Leverhulme. Proposals were also recommended to Rivington Heritage Trust for stage 2 of the conservation sequence. The Ravine was built by Pulham and Son during the 1920s and is thought to be their largest single rockwork (100 rock workers were employed to build this structure). Evaluations and formal statements were prepared to assist in securing listed status.

Scotland

Advice to Glasgow Council for two Pulham & Son rock gardens at Ross Hall and Kelvin Grove parks. Suitable planting schemes recommended and techniques of stratification and layers explained

.

Memorial

Greater Manchester

Planning application, design and project management for a Boer War Memorial at Mesnes Park, Wigan. Includes 'Heritage Statement', 'Design and Access Statement', tree survey, outline plans, detailed drawings and elevation drawings. features include statue on base/plinth, sandstone sett paving, interlace hoop-top railings, informational lectern and subtle up-lighting.


The research for and refurbishment of the Alderman Pagett Memorial Rose Garden originally built in 1949. Features include: formal rose beds with species chosen for historical accuracy, iron obelisks, red shale footpaths, lavender beds, and a central sundial feature with plinth and steps all carved from local reclaimed sandstone. Official re-opening performed by Sir Ian McKellen.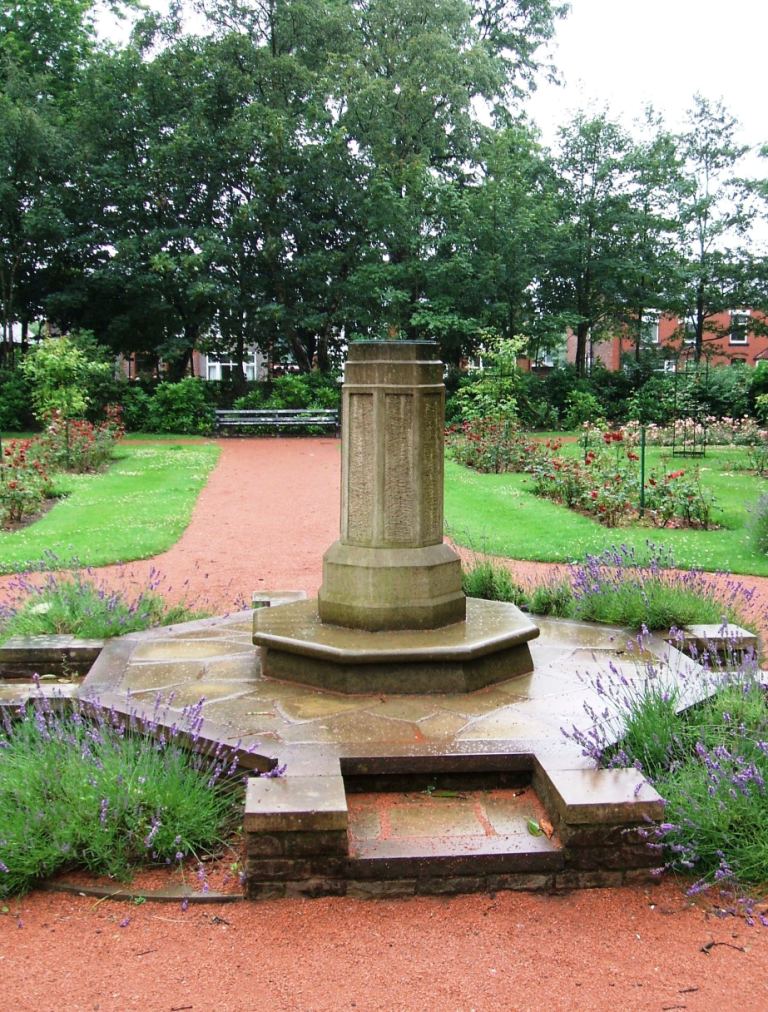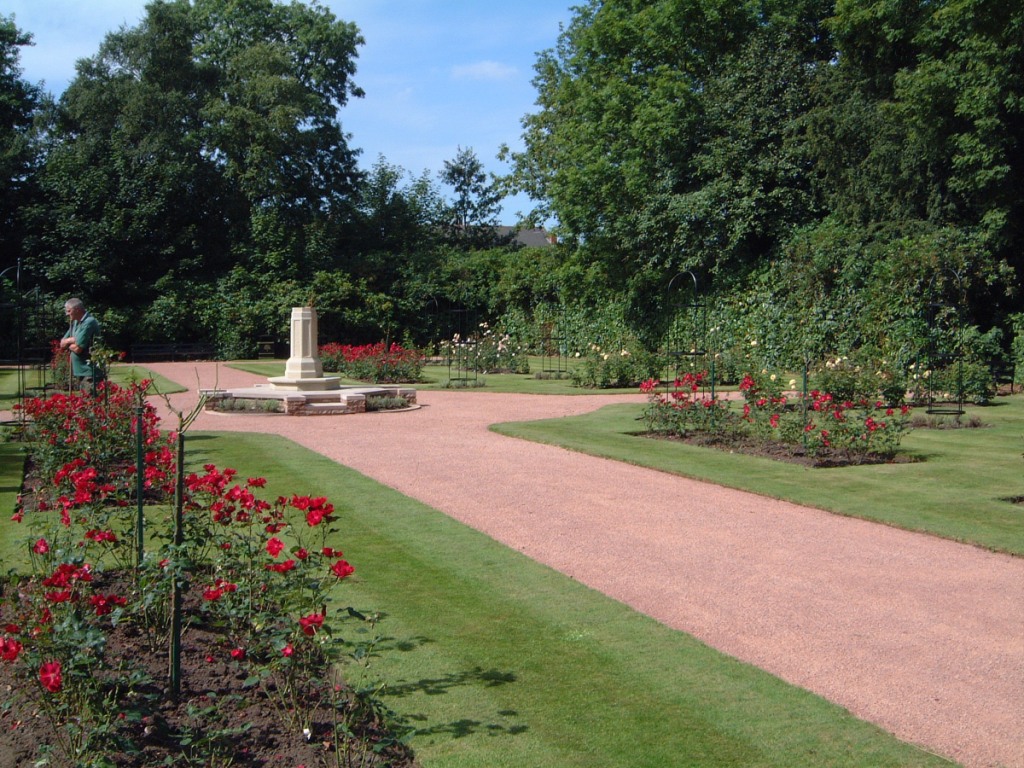 Design and pricing of a garden of quiet reflection, in remembrance of fallen heroes and aspiration for future peace on a former mining site at Hamilton Street, Atherton. Features include: a central monolithic memorial stone feature with up-lighting, formal lawns, ornamental shrub beds, symbolic tree planting, dedicated memorial rockwork, feature paving, decorative aggregate macadam paving, ornate cast iron railings, illuminated routes, sustainable urban drainage system and community working garden.
An idealised naturalistic Garden of Remembrance at Gidlow Cemetery, Standish. Features include: crushed stone footpath network, formal lawns, periphery shrub beds, feature rockwork, 3 seasonal beds (winter/spring, summer and autumn) for the scatter of ashes, and including ornamental shrub planting and semi-mature tree planting.
Contract administration for the refurbishment of an enclosed public garden with scheduled war monument at Church Street Gardens, Leigh. Refurbishment includes: heritage paving, resin bonded gravel surfacing, lawns, ornate iron railings, repair and sympathetic cleaning of a significant war memorial, heritage street lighting, surface and land drainage systems.
Design and supervision of the refurbishment of the Cenotaph Gardens at
Atherton; an open public garden with a scheduled monument. Features and refurbishment include: formal lawns, red aggregate macadam surfacing, repair and sympathetic cleaning of a significant war memorial, 4 flagpoles commemorating the 4 military services and feature uplighting of the monument.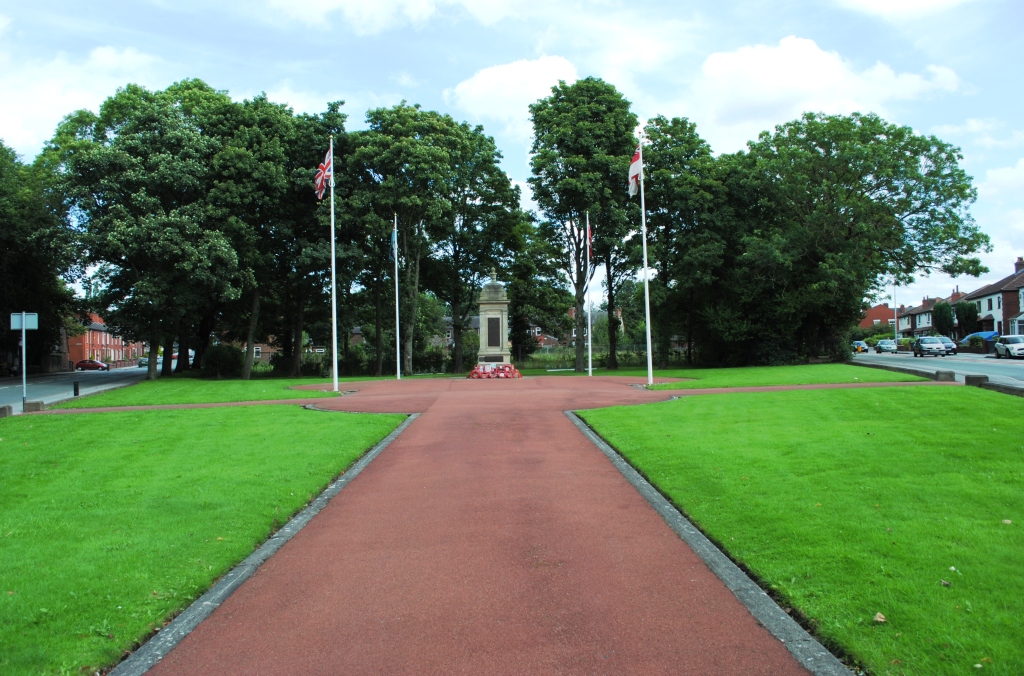 Design and contract administration of the refurbishment of Neville Street War Memorial, Platt Bridge; an enclosed public area with a scheduled monument. Refurbishment included: reconstituted stone paving, cast iron perimeter railings, repairs to inner ornate wrought iron railings, flagpole, formal lawn, outer footpath improvements, repair and sympathetic cleaning of a significant war memorial.
Lancashire

Planning and project management of the rebuilding and conservation of a 200 year old grade II listed war memorial – the Waterloo Monument at Bispham Hall, Billinge. Services included heritage appraisal, method statements, funding input and a sensitive landscape treatment.
Heritage
Greater Manchester

Historic garden research, planning process and design of a period garden, 'Stubshaw Cross Heritage Garden' on the footprint of an early 20th century 'rest garden'. The scheme included decorative metalwork conveying the area's history, feature entrance with self-closing gate, traditional ornate furniture, perimeter walls in reclaimed brick, iron railings, informational lectern, shrub borders, tree planting, sustainable drainage, paving reflecting the period and a central landmark feature. Assistance was provided for several funding avenues including a successful HLF bid.
Landscape design contribution to the refurbishment of Mesnes Park, Wigan; a 12 hectare grade II listed Victorian park on the English Heritage Register, also containing several listed buildings and important monuments. Personal involvement includes: preparation of drawings and documentation to support two Heritage Lottery Fund bids. Proposals included restoration of important Italianate gardens, upgrading of the serpentine lake area, refurbishment of Picturesque boundaries, enhancement of the Gardenesque inner fringe, improvements to sports areas and extension of play provision.
Historic research, survey, supervision and detailed planting schedule for the restoration of an important Pulham and Son Rock Fernery and Water Cascade. Originally constructed in 1878. Personal involvement includes: research into Pulham's work, Pulham's rock construction techniques and planting schedules, supervision of vegetative clearance works, survey of condition of rockwork, sourcing of spring water supply and routing for the water course and pools, preparation of bills of quantities and detailed planting schedule.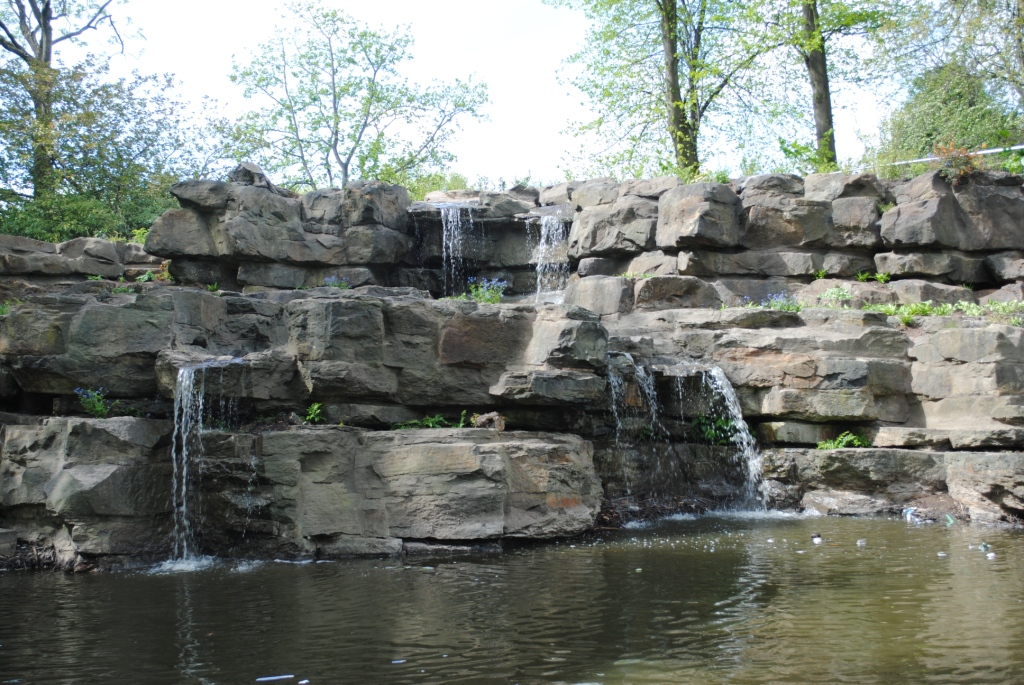 Outline proposals for the preservation of a historic listed conservatory at

Haigh Hall Country Park, Haigh

, and refurbishment of the surrounding grounds.
Domestic
Somerset

A traditional cottage garden with lawns, borders, pool, ornate trelliswork and entertainment terrace at Wembdon Road, Bridgewater. (See reviews)

Lancashire
A Courtyard Garden at Swinley, Wigan, in traditional Persian manner and inspired by the gardens of the Alhambra. Features include: reclaimed stone paving, pebble and slate mosaics, decorative trelliswork, raised pool with fountain, statuary, urns, mixed borders, climbing plants and a Persian-style arbour.
Austrian scenery was the inspiration for a large informal garden with steep inclines at Green Hill, Wigan. Features include: feature timber stabilisation of embankments, steel reinforced retaining walls, timber staircase and terrace, a large rock garden with watercourse and waterfalls, integrated pathway and stone bridge, 2 terraces in natural sandstone, pool, woodland walk with associated flora, decorative trelliswork, mixed borders and specimen tree planting.
Courtyard garden with Mediterranean theme for Mr M. Mahood (Mahhod Bros Plant Nurseries), Ormskirk. Features include; cloister, terracotta tiled terrace, timberwork terrace, laburnum archway, shrub borders and water feature. Also sketches for proposed sculpture.

Staffordshire
A formal tiered garden on a small sloped site in Stafford. Features include: natural reclaimed stone paving for pathways steps and terraces, clipped edging, topiary, mixed borders, tree planting, timberwork, and commissioned sculpture and furniture. (See reviews)
Greater Manchester
From a huge collection of reclaimed materials acquired by the client, an inventory was compiled which influenced the design proposals at Worsley, Manchester. Features include: pathways, hardstanding for vehicles and caravan, trelliswork, fences, a rock garden, 2 entertainment terraces, mixed borders, raised water feature, sunken water feature, rose arbour and utility/composting area. Reclaimed materials include: handmade bricks, engineering bricks, exposed aggregate paving, granite setts, cobbles, pebbles, sandstone boulders, softwood & hardwood timber, tiles, statuary.
Cheshire
A themed garden in Chester initiated by the client from his interest in Greek culture. Features include two entertainment terraces, raised water feature, stone parapets, glasshouse, mixed borders, intimate courtyard area.
Country estate
Cheshire
Planting design and schedules at Hare Hill Hall for gardens around the croquet lawn, tennis court and viewing terrace; consisting of clipped edging, shrub planting, herbaceous planting and an extensive pleached evergreen tree screen.
The Wirral
Maritime woodland of native tree species and providing connectivity to other copses and wildlife corridors at Neston. The woodland was also designed to provide a shelter belt from the estuary's strong winds, subsequently producing a microclimate for the estate's gardens. A 25 year management plan was produced for establishment, short-term and long-term maintenance.
Shropshire
Consultation to give direction to the development of moat areas and walled gardens. Included condition tree survey.

Rural
Lancashire
Design and planting of hedges on former farmland at Parbold. Features include: a 340m long native hedge consisting of 19 indigenous species a 70m decorative, clipped Berberis darwinii hedge around the house/barn area, improvement of ground conditions by installation of an extensive land drainage system.
Commercial
Leicestershire
Detailed planting schedules and costing for a 5 hectare factory site at Melton Mowbray for Melton Foods. Features include: periphery tree planting to compliment Local Authority directive (i.e. by transitional planting), inner ornamental tree planting, deciduous and evergreen hedges, serpentine hedges, pleached avenues, topiary, herbaceous walks, flowering meadows, grasslands and lawns.
Greater Manchester
Planting borders and tree planting to compliment several individual industrial units on the 45 hectare Moss Bros. industrial estate.
Lancashire
Design of gardens for a small pets' hostel at Walk and Watch Pets, Upholland. The layout provides a pleasant environment for the animals and the planting beds incorporate annuals and biennials suitable for fodder. (See reviews)
Countryside and Nature
Lancashire
Surveys, setting out and supervision of the construction of a significant wetland at Greenslate Farm (an extention of Orrell WaterPark) on an area of mining spoil: now a Local Nature Reserve. Features include: three wildlife lakes, mosaic habitats, control flow dams, wetland meadows, tree belts and a crushed stone footpath network.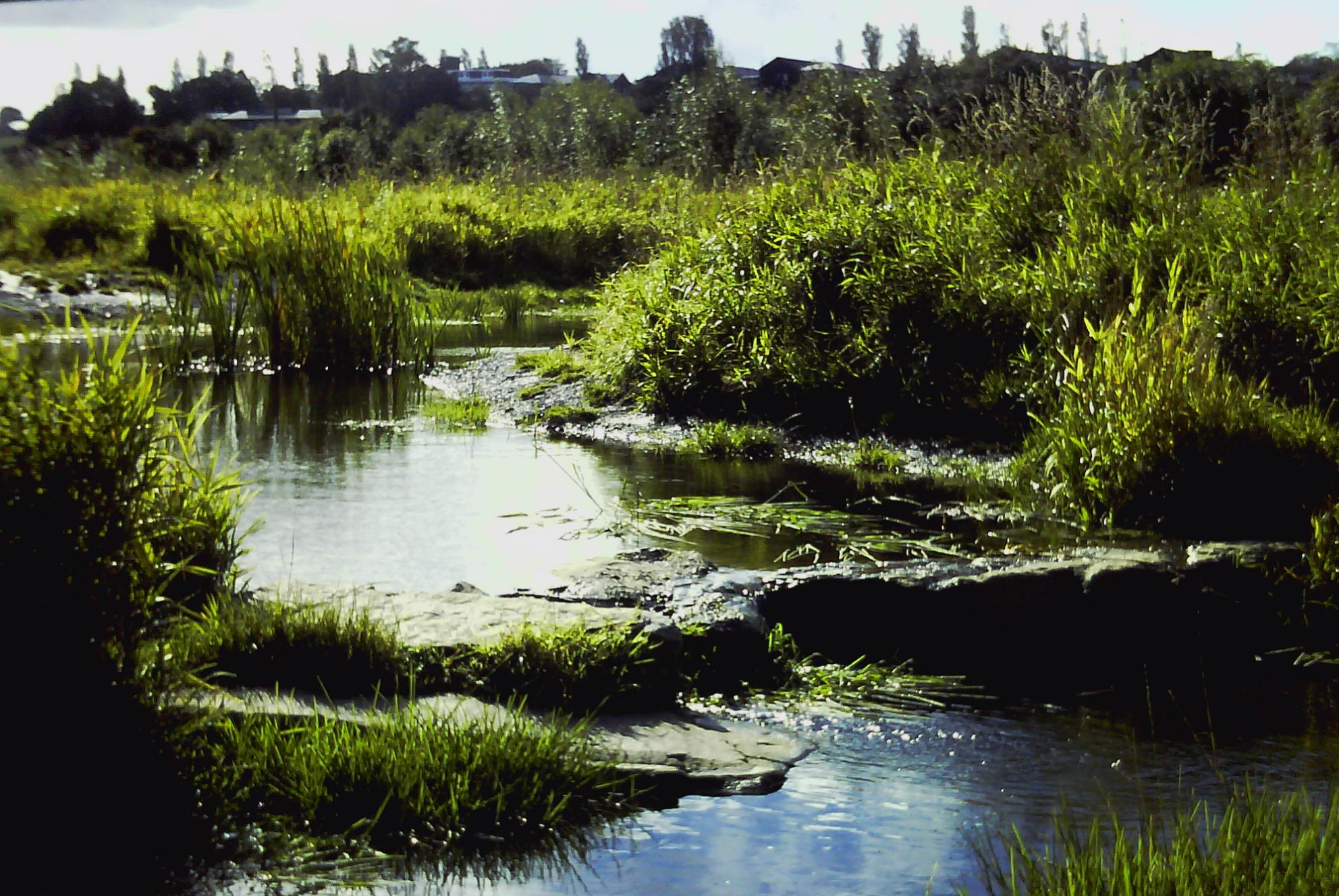 Greater Manchester
Survey, design and contract administration of an educational wetland at Three Sisters Country Park, Bryn at a country park. Features include: land modelling, wetland with mosaic habitats, viewing gallery, crushed stone footpaths, and a recycled plastic boardwalk. Official opening performed by Dr David Bellamy.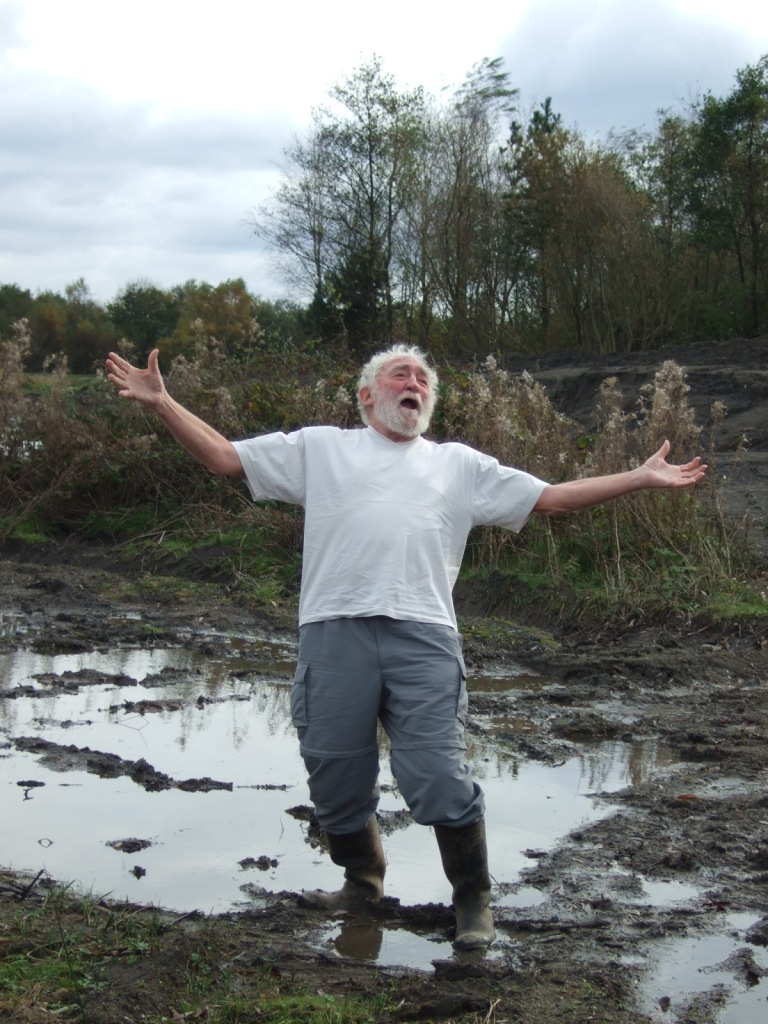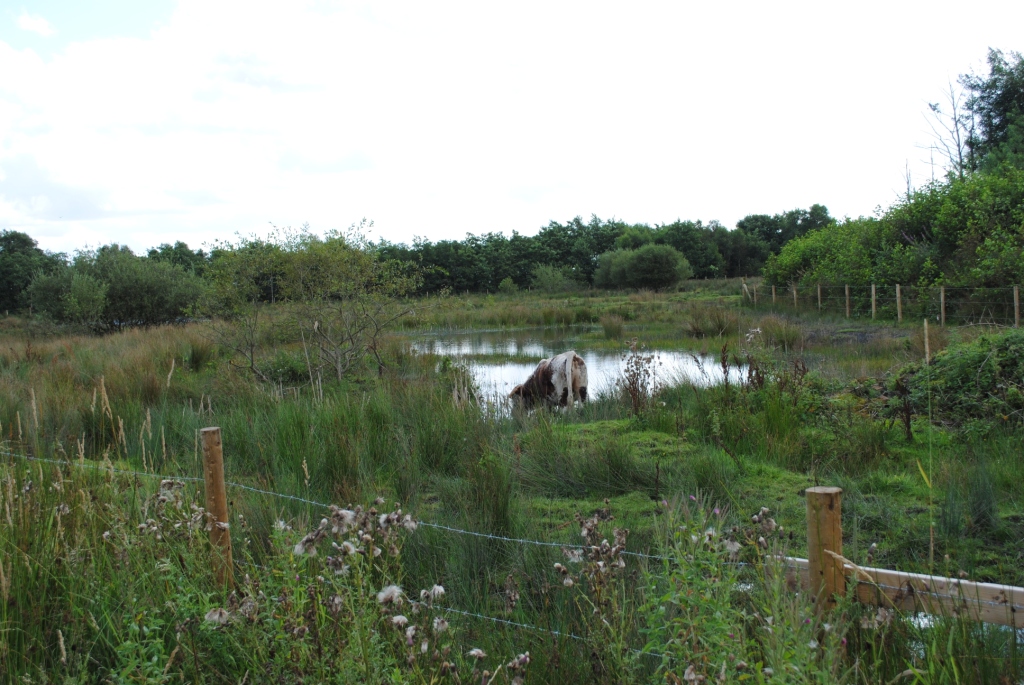 Unique research. Survey, social value mapping and determining the community's meanings of urban woodlands within the Wigan Borough. The study compared values by geographic sampling and differing levels of deprivation using the Index of Multiple Deprivation. Commonalities and discernable differences from a multi-cultural perspective were also analysed.
Education
Greater Manchester
Herb Garden at Golborne Junior and Infants School, commissioned as an educational initiative. The project was supplemented by on-site instruction to young students and delivery of short lectures on horticulture and herbal uses.
An interactive sensory garden for students with special needs at Two Porches School, Leigh. Features include: low level and raised planting beds, textured paving, educational play equipment. Supplemented by on-site instruction to students who were active in some of the planting of the garden.
Lancashire
Design for an outdoor social and educational plaza at Winstanley Sixth Form College. Features include; covered areas with fabric architecture canopies, contemporary furniture, improved surfacing, sustainable planting and drainage. Included a landscape character assessment, feasibility study and study of Ofsted Report to support direction.
Sport and play

Greater Manchester
A multi-use games area with high spec surfacing, floodlighting, sustainable drainage system and associated landscaping at Firs Park, Leigh.
Sympathetic design and project management of a rugby pitch within a rural setting for Spring View ARLFC ; includes land re-modelling, extensive land drainage system and maintenance access arrangements.
Feature playground play markings for several schools within GreaterManchester to cater for varying play ages and including a large interactive educational map of the British Isles.
Miscellaneous
Greater Manchester
Planting design and layout improvements for the grounds of Wigan and Leigh Hospice.
Planting plans and plant procurement for the gardens of St Jude's RC Church, Wigan.
Security fencing, maintenance roads, preparation of plots, drainage and composting/recycling facilities for several allotment sites within Greater Manchester.